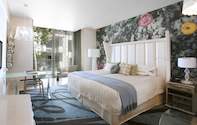 For unique Cape Winelands accommodation with every visit, no two rooms are alike at Oude Werf Hotel.
This Stellenbosch hotel in Cape Winelands has 58 beautiful en-suite rooms. The hotel is set in leafy splendour in a central part of the town.
At this Cape Winelands accommodation, each guest room has its own character, and is well appointed to meet the needs of today's travellers. Crisp linen and sumptuous soft furnishings create a warm and inviting atmosphere. The apartments have a kitchenette available and dining area for those who would like to self-cater.
Oude Werf Hotel Room Facilities
Air-conditioning
Disable Rooms
En-suite
Safe
Shower
T.V
WiFi
Hair Dryer
Mini Bar
Tea/Coffee
Laundry Service
Comfy Room (23)
These rooms offer views of the leafy courtyard and pool. Rooms have twin, double or king-size beds with chic vintage interior. All rooms have luxury en-suite bathrooms with separate baths and showers. The Comfy rooms are located on the ground floor and 2nd floor.
Whimsy Rooms (12)
These rooms provide breathtaking views of the garden courtyard. The rooms have double or twin beds with a chic antique style. Rooms have spacious bathrooms with a walk-in dressing room.
Plenty Room (23)
These rooms have views of the gardens and courtyard. These open-plan rooms boost soft tones with historical styling. The Plenty rooms have a comfortable separate en-suite bath and shower