Cederberg Serene, South Africa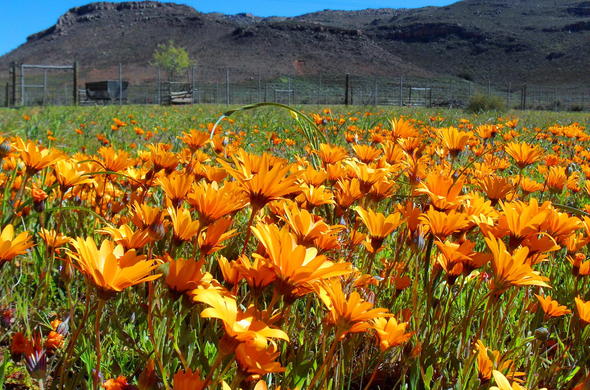 Incredible rocky landscapes, fascinating Bushman paintings and a wealth of flora and fauna, the Cederberg has it all and more.
Lingering rays of sunlight cast a warm glow over the silent Cederberg landscape. All around, majestic mountains are bathed in shafts of gold. A Cape mountain zebra ambles into a field of yellow daisies, then catches sight of us and snorts a warning to his family ahead. In the distance, a herd of springbok graze and play. Great balls of cottonwool clouds cover the sky and as the sun begins to vanish, they change into soft pastels of purple and pink. The serenity of the Cederberg washes over me and I sit, relaxed, watching nature at its best.The Cederberg is one of South Africa's magical destinations and is extremely popular with both local and international visitors, especially those who have a love for nature and the great outdoors.Travelling from Cape Town north along the N7 highway, it's a relaxed three hour drive through the wheatfields and fruit orchards of the western Cape. Soon we are passing the green fields of Malmesbury and Moorreesburg, then Citrusdal where orange trees hang heavy with fruit. Our destination is Bushmans Kloof Wilderness Reserve, one of South Africa's most exclusive lodges, situated 270km from Cape Town in the foothills of the Cederberg mountains.The heaviest winter rains in over 40 years, followed by several days of sunshine, have brought an early carpet of flowers to this part of the world famous for its springtime floral display. Green fields are covered with orange and yellow daisies and we make several photographic stops along the way.At Clanwilliam, we head onto the dust and over the Pakhuis Pass where the Cederberg's famous landscape of weird rock formations and valleys of stone dominate the view. Over the past five years, Bushmans Kloof has been transformed from a neglected farm into a world class destination situated in a unique wilderness setting. The resort was recently awarded their third Gold Achiever Award in the annual AA Travel Guides Accomodation Awards and is a member of the prestigious Relais & Chateaux association.A stay of two days at Bushmans Kloof gives the visitor enough time to experience most of the excursions and activities on offer. These include rock art tours, hiking, mountain biking, abseiling and a sunset game drive through the reserve that is home to 140 bird species, 755 plant species and 34 species of mammals including the endangered Cape mountain zebra.After high tea served overlooking the Boontjies River, we board an open air Land Rover and set off across the plains. Our guide, Helen Murray, identifies several bird species and animals such as the bontebok and red hartebees before we stop to watch a family of endangered Cape mountain zebra.'That's a typical example of male zebra behaviour,' explains Helen, as one watches us closely and snorts to his mate and offspring. 'He will stand between the vehicle and his young and give them warning signals.'Bushmans Kloof is renowned for its luxurious accomodation and fabulous cuisine so after a memorable meal and a good nights sleep, we're up early for our rock art tour. The reserve has over 125 Bushman painting sites dating back some 10 000 years. This area was once the hunting ground of the San and at Sonya's Cave, Helen shows us the etchings that illustrated their hopes, activities and daily life.'Although there are no longer any elephants here, these sketches are proof that they once did exist in this part of the world,' she says, indicating one prominent red ochre painting.After another day of fine food and adrenalin-charged activities, it's time to leave the luxury of the lodge for the rustic charm of Kromrivier, a self catering resort in the heart of the Cederberg.We drive down into the breath-taking Biedouw Valley where the flowers are in full bloom. The gravel road continues to Wupperthal from where the route becomes somewhat tricky. We're now travelling up a road unmarked on the map and I can see why. We're in first gear the whole way and with long stretches of steep narrow track erratically punctuated by large rocks and potholes, it makes for a hair-raising drive. Somehow we survive and coast into a mountain valley of incredible rock formations and fields of protea trees.Kromrivier is a convenient base for hiking and exploring the area's natural features such as the Wolfberg Cracks, Disa Pool and the Maltese Cross. The next morning, we set off to tackle the Cracks, three long fissures that run right through the side of the mountain top. It's a tough hike upwards and the steep path is strewn with uneven boulders. Sweating and swearing, I slog my way to the top where we reach the entrance to the cracks.After a precarious walk around an exposed ledge, we climb into the smallest fissure and are instantly immersed in a world of sunbeams, silence and stone. The corridor twists through the orange cliffs and in some places it is so narrow that we have to crawl on our stomachs and squeeze through tight rock chimneys. Eventually we reach an open plateau of lunar landscape proportions.It's getting late and we can't locate the stone cairns that indicate the correct path down. After a long trek through a field of waist high reeds, the track turns into a dead end with a sheer drop so we back track and luckily find the right route with just enough time to return before sunset.Our last day dawns with crisp blue skies and not a breath of wind. It's perfect weather for the Disa Pool hike that runs along the banks of the crystal clear Krom River. We reach a secluded rock pool where we stop to swim and relax in the tranquil surrounds.The river is freezing but that doesn't stop me from stripping off and plunging into the fast flowing pool. I gasp as the icy water takes my breath away. Just like all the other wonders of the Cederberg.Copyright © 2002 Jeremy Jowell. All rights reserved. Reproduction in whole or in part without the permission of the author is prohibited.