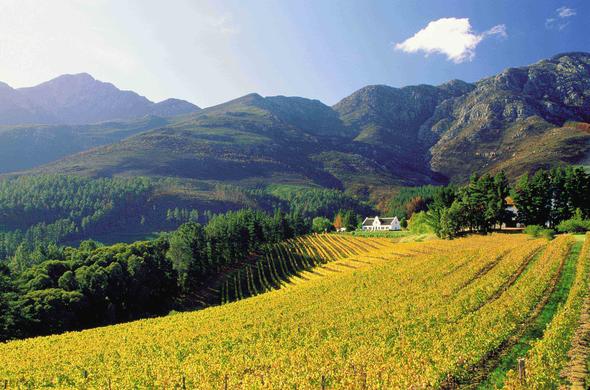 The diversity of the Winelands will capture every heart. Just 45 minutes from Cape Town and its international airport, the Winelands is the ideal base from which to explore Cape Town and its surrounds
History comes to life in the splendidly restored Cape Dutch, Georgian and Victorian buildings in each town where splendid mountains form a dramatic backdrop to lush vineyards. Experience the hospitality and beauty of Stellenbosch, Paarl, Wellington and Franschhoek, where many wine farms offer a variety of tranquil and secure accommodation options.Enjoy the hospitality of one of the many guesthouses and bed & breakfast establishments throughout the area, or indulge yourself with a pampered weekend of luxury at one of the exclusive boutique hotels. For those on a smaller budget, the backpacker facilities in the towns will not be a disappointment.The excellent wines produced in this area are world-renowned. You will be spoilt for choice between small, boutique wineries and the larger, more commercial wine estates. Taste the fruit of the winemaker's labour on a tour of his cellar where the precious harvest is lovingly transformed into every wine lover's delight.Cabernet Sauvignon, Sauvignon Blanc, Chardonnay, Pinotage (South Africa's unique, flagship cultivar), Merlot and Shiraz compliment a menu of locally produced cheese, Olives, herbs, Berries and much more. The Winelands also boasts some of the finest restaurants in the Cape, offering from traditional fare to the more exotic.
The Winelands boasts 5 wine routes, namely Stellenbosch, Pniel, Paarl, Wellington and Franschhoek.
Franschhoek
Franschhoek, the charming village and beautiful wine valley, was originally known as Olifants Hoek, after Elephants took to calving in the sheltered valley of plentiful food and water. In 1694, nine farms were apportioned to Huguenots fleeing persecution in France. Finding the climate similar to that of France, the settlers planted vines. Today members of the Vignerons produce wines consumed throughout the world.Visit the Huguenot Memorial Museum and Monument in the town. Franschhoek is well known for its excellent restaurants and top accommodation establishments. Other activities include fly-fishing, hiking, mountain biking, horseriding. There are also numerous specialty art and craft shops situated in this quaint village. Read more about
Franschhoek
Paarl
The only monument ever built to immortalise a language stands proudly on top of Paarl Mountain. The Taal Monument stands alongside 3 enormous granite rocks known as Paarl, Bretagne and Gordon Rocks. Their age is estimated at 500 million years and what is visible today has been exposed by erosion. The Klipkershout Trail is a popular circular route that starts at the Language Monument and takes roughly 2 hours.A network of paths makes it an ideal area in which to walk, within a few minutes of the bustle of everyday life. The Clementina van der Walt Ceramic Studio outside Paarl is well known for its brightly coloured ceramics, and at the Ikhwezi Centre in Paarl many crafts and woven carpets are produced by the local community. Read more about
Paarl
Wellington
The town of Wellington is situated amidst lush vineyards; vine cutting nurseries, Olive and fruit orchards at the foot of the Hawekwa Mountains. The Wine Route leads to prestigious wineries where wine tasting and light lunches can be offered. For the adventurous there is the Wellington Mountain Bike Trail, which runs through the foothills of the Hawequa Mountains and offers spectacular views over the Berg River Valley. The 26km (16.1 miles) course tests mountain bikers' skills with a good combination of cross-country and down hill cycling. Read more about
Wellington
Stellenbosch
Well worth a visit is the Stellenbosch Museum, which consists of 4 perfectly restored houses that reflect the architecture and furniture of specific periods. Dorp Street boasts the longest rows of old buildings and is a historical monument. The Braak is the historical village green and parade ground. Outside Stellenbosch, Dombeya Farm has a hand spinning and dyeing workshop where a variety of hand-knitted products can be bought. Read more about
Stellenbosch
Pniel
Situated at the foot of the Simonsberg and set within easy access of town such as Stellenbosch, Franschhoek and Paarl, this picturesque little village was found in 1834. The beautiful congregational Church, built over 150 years ago, as well as the old oak trees on the shores of the Dwars River, can attest to the historic beauty of the village. Read more about
Pniel